The course Sustainable Architectural Design emphasized the social and to some extent economic sustainability and was a design course where we would work with the building and town at various levels with the objective to design a building.
This year's theme touched aspect of how a central area in Lund could be enhanced and activated so that the buildings and spaces could operate under more times than now and with more diverse functions.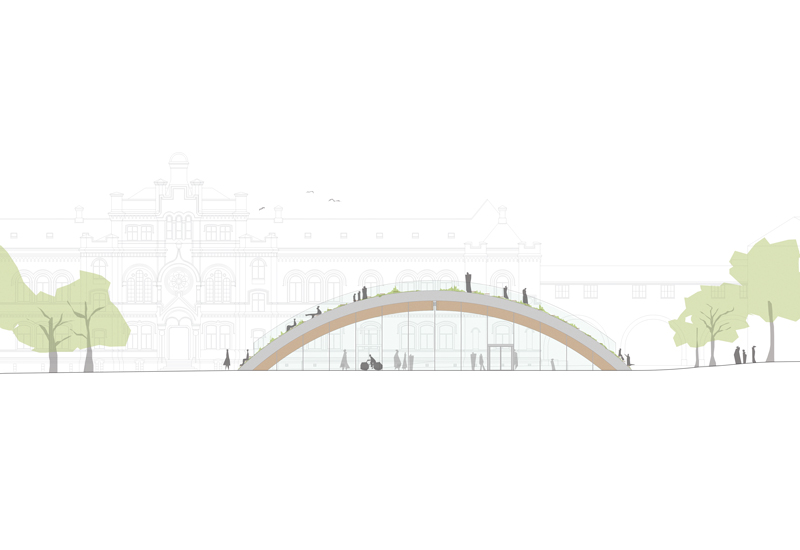 Openness
The main vision is first and foremost to open up the relatively closed campus area Paradiset. This impression of introversion, probably most evident for people who have no connection to Lund University, is mainly the lack of a room that would invite and attract the public into the campus.
Flexibility
The building is based on multifunctionality. Depending on the time of day or year, the inner room can be reshaped and make room for new activities. This is possible with the help of mobile walls. The majority of the time it is dedicated as a social learning environment. A single large room that constantly forming new landscapes and makes it possible for students and the public to meet.
Design
The building is constructed with arches of laminated wood. These arches show excellent properties in terms of the optimal loading bearing capacity and reducing the surface where the heat can slip out. It also provides the opportunity for people to take advantage of the roof and anchors itself by the shape respectable in front of the old building's main façade.
Green
The green roof contributes to biodiversity, captures rainwater and helps to insulate the building. Solar cells and solar panels located on the roof generates electricity and heats water to the building.